LAET Face Shields for the NHS
---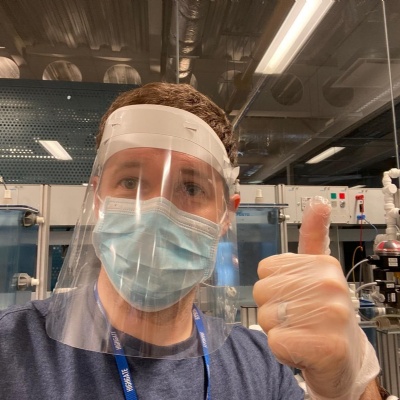 Staff from LAET and Highgate school have stepped up to provide vital PPE to NHS staff on the front line fighting the Covid-19 pandemic
Working together with colleagues from Highgate School, London Academy of Excellence Tottenham (LAET) has been working tirelessly over the last week to produce face shields for the North Middlesex University Hospital NHS Trust and other hospitals and GP surgeries across London including for Watford General Hospital ICU and the Royal Free hospital. Over 1,000 face shields have now been produced and distributed thanks to the efforts of staff from both schools working throughout the school holidays and the bank holiday weekend.
Utilising the high-tech Design Technology and Engineering equipment at LAET the school has been able to produce in excess of 200 face shields a day and join schools up and down the country doing the same to step in and help the NHS cope with shortages in vital Personal Protective Equipment (PPE).
The response from staff giving up their free time to do this has been phenomenal. Jan Balon, Headteacher, LAET, said: "The school is proud to be offering what it can to help those on the front-line saving lives on a daily basis. We are pleased to know that, even without our students here currently, the equipment is being put to good use for such an important cause."
Adam Pettitt, Head, Highgate School, said: "I'm delighted that the ingenuity of teachers and support staff at Highgate and LAET is contributing to the national effort to combat the pandemic and hope that, in this and other ways, our schools can continue to support the brilliant work of the NHS to look after the ill and vulnerable while also protecting the health of our vital NHS staff."
Daniel Levy, Chairman, Tottenham Hotspur, said: "This is a fantastic example of a community working together to fight this pandemic and support our wonderful NHS. When we first opened the school, we invested in this equipment with the aim of this being the best educational offer in Tottenham. We've all seen on the news how vital protective equipment is on the front-line in our hospitals, so what better way to put the school's facilities to good use when the students are unable to benefit themselves."
LAET has also been working with supporters at Highgate and other partner schools to fundraise for a Coronavirus Support Fund to provide financial support to its students and local charities and is over 70% of the way to its £100,000 target. For more information or to donate visit the page here.