David Lammy MP urges LAE Tottenham students to shape their future
---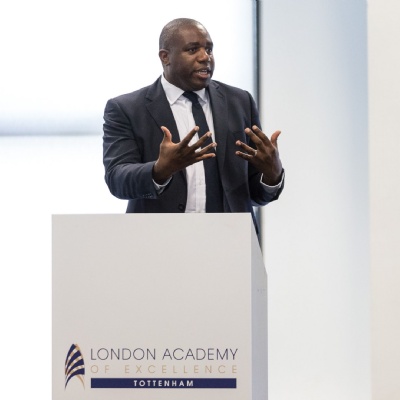 David Lammy, Member of Parliament for Tottenham, visited the London Academy of Excellence Tottenham on Friday 11th May to meet pupils and learn more about the school's academic offering.
During the visit, Mr Lammy addressed the pioneering Year 12 cohort, telling them that aspiration comes from within and urging them to create their own opportunities. He also met a group of local students who will be amongst the first cohort to be applying to Oxford or Cambridge university.
Isaiah Thomas, who hopes to study Pure Mathematics said: "David's words have made me even more determined to take the necessary steps to seek opportunities that will enable me to be the best that I can be."
Speaking during the visit, David Lammy MP said: "LAE Tottenham is providing young people in my constituency with a first class academic education, with a real focus on giving students from underprivileged backgrounds the skills they need to reach our top universities and break into the professions."
LAE Tottenham's mission is to provide students with a first class academic education in the heart of North London. The school is backed by principal educational sponsor, Highgate School, and business sponsor, Tottenham Hotspur Football Club.