Support Us
---
The Northumberland Park ward of Tottenham, where the school is situated, is amongst the 2% most deprived wards in the country. Over half of our students were eligible for free school meals at secondary school. Alongside the disruptions that the COVID-19 pandemic brought to all our lives and all children's education, members of our student body have experienced extreme financial hardship, parental job losses and bereavements in their immediate family.
An urgent appeal
In April, we launched a Covid-19 campaign: in its first stage, this campaign raised over £80,000 to provide additional financial support to our most vulnerable pupils, to support them through the immediate impact.
Good news
After the most unprecedented term, we were delighted to see our Year 13s open their results. Watch the video to experience the day with them!
Support is needed more than ever before
"As well as falling behind in curriculum content, the learning habits and resilience of our Year 12s will have been damaged during this time away from school. Some students really are struggling to cope with their circumstances: as we would be in the same situation, some are tipping the balance between mental health and mental illness. I worry that the ambitions which LAE Tottenham has helped students aim to reach may no longer feel realistic for them: Covid-19 could be putting these students back to where they were before they attended LAET." Jan Balon, Head Teacher.
This need for support has not gone away. We fear that the pandemic and its aftermath may prevent today's students from realising their talents. The educational, personal and emotional impact on disadvantaged students is likely to be significant, at LAE Tottenham and in our feeder schools.
Our students have the potential to do great things: last year, over 73% of our students - from similar backgrounds to those supported by the Covid-19 appeal - achieved A*/B at A-Level.
Students from lower income groups rely on their schools: many live in multigenerational, busy households without access to technology or a quiet place to work; LAE T provides vital pastoral support and academic resources for these young people.
School closures - even for a relatively short period - have a greater effect on students at LAE Tottenham than on their middle-class peers. We do not want coronavirus to squander the talent of a generation.
We are facing an unprecedented challenge, and we do not know what needs our students will present with. We want to make sure we are able to support them, for as long as our support is needed.
And we believe that we have an opportunity to do more. Put simply: we do not want life after coronavirus to just 'go back to normal' for many of our students. For some students, normal was not good - we want to help them break the poverty cycle and achieve their potential.
What is the social and educational need?
The Northumberland Park ward of Tottenham, where the school is situated, is amongst the 2% most deprived wards in the country. Local authority data shows that only 1% of students from the east of Haringey achieve a place at a Russell Group university, compared with 18% in the more affluent west of the borough. Over 75% of students from the east of Haringey currently leave the borough for their sixth form education.

Who are our students?
Our admissions criteria prioritises students from our five feeder schools – Duke's Academy, Gladesmore, Heartlands, Park View, Woodside High. Students at these schools are guaranteed an offer of a place at LAE Tottenham, subject to meeting our entry criteria. 51% of our students have been eligible for free school meals in their time at secondary school. This compares with the average of 28% nationally and just 4.5% at selective state schools. 60% of our students come from the lowest two social groups, being described as living in "struggling estates" or "difficult circumstances" using the ACORN tool for socio-economic analysis.
"We aspire to deliver a truly enriched 6th form experience, in line with what is available at the best independent schools. This costs approximately £1,862 more per pupil per year than we receive in funding from the government" - Jan Balon, Headteacher
LAE Tottenham provides a world-class education to those who otherwise might not be able to access such provision. Our students benefit from outstanding teaching, a wide range of co-curricular activities, and comprehensive assistance in navigating the university admissions process.
"It's an exciting achievement knowing that I am the first in my family to go to university. LAE Tottenham has contributed to my development as an individual; the support that I received over the past two years has been amazing"

Viktoriya earned a place to study Biochemistry at Bristol
We are seeking support for the following areas, which run to the core of who we are as a school.
1. Mental Health and Wellbeing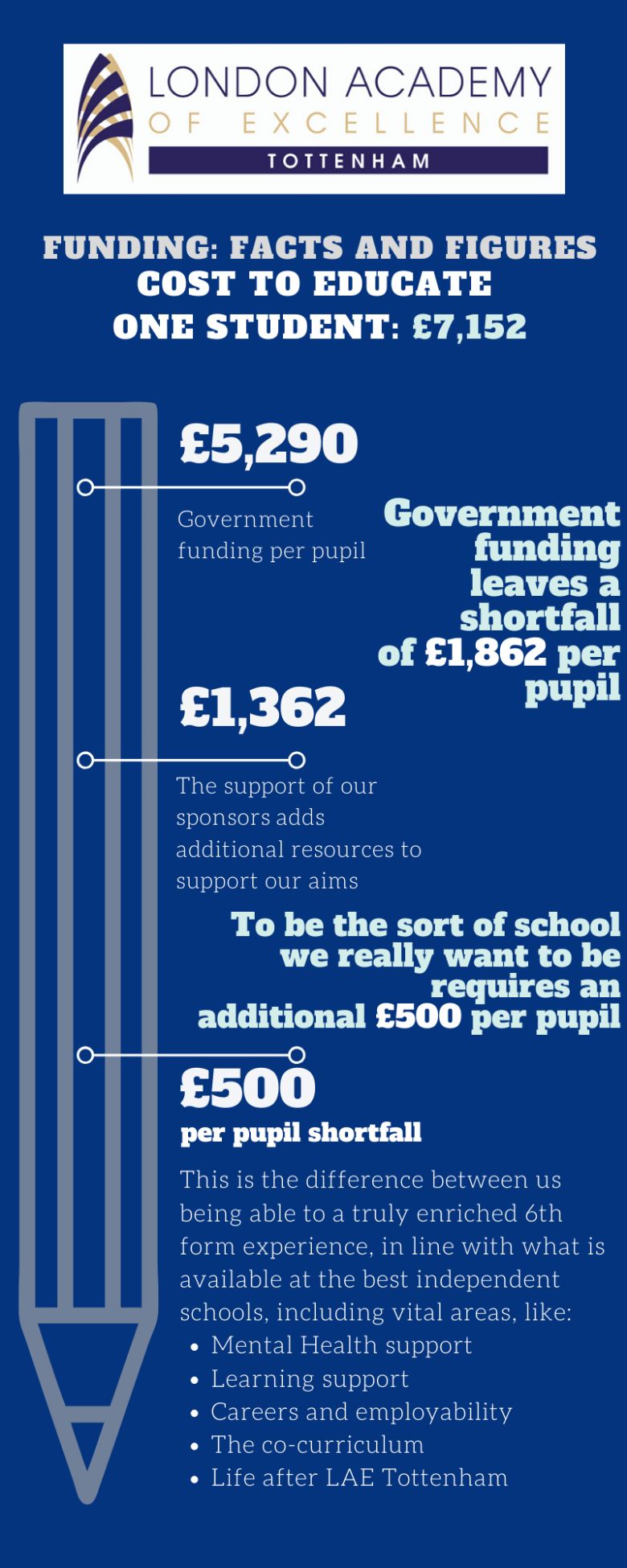 60% of students at LAE Tottenham come from disadvantaged backgrounds and research shows a strong link between disadvantage and poor mental health.

Therefore, the school invests heavily, far beyond what government funding can provide for a pastoral team including a counsellor and mental health lead.

In order to maintain the quality and responsiveness of the school mental health support as the school grows to its capacity, additional resource is required.
2. Learning support
Many LAE Tottenham students require intensive support, particularly in the transition from Y11 to Y12, in order to build the resilience required for academic success.

The school employs a full time learning support lead, who not only works one-to-one with students with diagnosed special educational needs, but also supports those struggling with the transition to sixth form more widely.

The result of this in year one is a retention rate of 97%.
3. Careers and employability
By providing significant, specialist support, we want to enable our students to develop crucial employability skills and make informed choices about potential future careers.

The addition of a qualified careers adviser would enable student 1 to 1 contact with a trained professional, able to give advice to individual students at key points in the 6th form journey.
4. The Co-curriculum
The co-curriculum allows students to explore areas outside of their specialisms and offers opportunities for them to be outside of their comfort zones in a way which supports their personal development.

We want students at LAE Tottenham enjoy a fully enriched co-curriculum, including weekly clubs and societies, sports and community projects.

It costs £26,800 to provide the current level of co-curricular support for our students.

Without specialist Music and Drama teachers in house, LAE Tottenham must buy in high quality provision in these areas to give students a greater range of opportunities.
5. Beyond Tottenham
We want to prepare our students for their life after sixth form in particular helping them to apply to top universities in the UK and abroad and to ensure that money isn't a barrier to this.

The school subsidises most educational experiences for the majority of students.

Whilst the government gives bursary funding which can be allocated to educational experiences, the criteria for successful bursary applications are stringent and many of our families struggle to provide the necessary paperwork to qualify.

The school also aims to raise aspiration in the local community through the development of an outreach function, designed to support students in local secondary schools to achieve success in their GCSEs and secure places at LAE Tottenham.
6. Books and classroom technology
Government subsidies do not cover the cost of students' books and even with making extensive use of our library, most students spend £70-£100 on books each year.
Whilst classroom technology is no substitute for high quality teaching it is a useful tool to aid students' learning. Previous donations have funded Chromebooks for students to use both in class and in independent study and these have already made a difference. Increasing the number of Chromebooks would equip the school for a growing number of students and ensure that students aren't waiting for a device to become available.
For a confidential conversation about supporting LAE Tottenham, or simply to find out more, please email Emily Clarke - emily.clarke@laetottenham.ac.uk.