Excellent results for LAE Tottenham's pioneering cohort!
---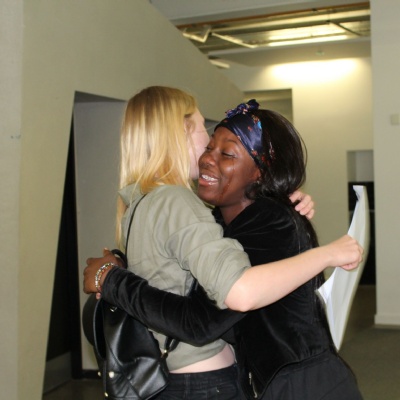 We are delighted to announce fantastic results for the pioneering cohort of A Level students at the London Academy of Excellence Tottenham.
70% of grades in the curriculum of hard or facilitating A Level subjects were A*-B with over 30% A*-A. More than half of the first cohort of students have won places at Russell Group universities, compared to 1% of Tottenham school leavers in 2016-17.
Examples include Luqman Liaquat, who achieved A*A*A*A* and will be the first in his family to go to university when he studies Computing at Imperial College London.
Viktoriya Suleman who has won a place to study Biochemistry at Bristol said "It's an exciting achievement knowing that I am the first in my family to go to university. LAE Tottenham has contributed to my development as an individual; the support that I received over the past two years has been amazing".
Nurgul Sahin, who will be reading History at Oxford said "LAE Tottenham has allowed me to grow and develop as a person. The support from my subject teachers both during and outside of lessons has been phenomenal".
Jan Balon, Headteacher said "We are thrilled by the success of our pioneering cohort. They put their trust in our vision of an outstanding 6th form and their achievements are testament to the impact of their hard work as well as the support of our sponsors and partners."
Adam Pettitt, Head of Highgate School, the principal education sponsor said "Highgate School couldn't be more proud of its sibling school and of the opportunity to help talented young people in Tottenham achieve these brilliant results. Highgate's eight seconded teachers have been part of a trail-blazing team who joined forces to create new educational excellence in Tottenham. I congratulate them, and all of LAET's staff, for their commitment, focus and unstoppable ambition: well done, LAET!"
Donna-Maria Cullen, Executive Director of Tottenham Hotspur, LAET's business sponsor, said: "Congratulations to the students who have worked so hard and received well deserved grades. The Club is delighted to have been able to facilitate the LAET - along with our education partner Highgate School – as part of our wider stadium scheme, providing the area's brightest young people with the opportunity to study right here in Tottenham, receiving a first-class education with teaching expertise from leading private schools. Well done to all the staff. We wish our graduates well in their future careers."
LAET an academically rigorous sixth form academy opened in September 2017 to provide an aspirational education in the East of Haringey. Enrolment for the 2019 cohort will be taking place from 9am on Thursday 22 August.