UK's Largest Space Design Competition at Imperial College
---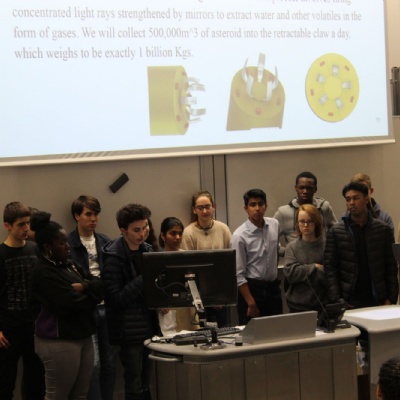 A team of twelve LAE Tottenham students, all from Year 12, spent the entire day on Saturday 07 December at Imperial College representing the school in the UK's largest Space Design competition; an Engineering project challenge to design a mining base in the asteroid belt.
The project was set in 2076 and required the team to meet a detailed brief requiring design, creativity, problem-solving, management and analytical skills. Our students competed as part of the (fictional) Fletchel Construction consortium of 6 schools against 4 other consortiums, with a total of 250 students participating.
The day started at 8.15 am and finished after 10.00pm with a welcome serving of pizza ahead of the final evening presentations in front of a packed and enthusiastic lecture theatre. The Fletchel consortium, although not qualifying for the National Finals, was particularly praised by the judging team for its innovative ideas for 3D-printing of replacement medical organs, usage of DNA for computer storage, use of hexagonal boron nitride for settlement protection and its extensive transport calculations.
The experience was a great introduction for our students to the elements of teamwork, deadlines, creativity and use of technical skills that underlie successful engineering projects and an invaluable experience in helping them to make better informed choices for their future university and career choices that lie ahead for them in Year 13 and beyond.