LAET students receive Oxbridge offers
---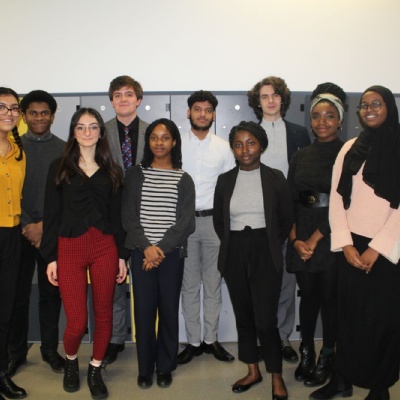 10 current Year 13 students have been offered places at Oxford or Cambridge for the next academic year
State-funded Sixth Form is sponsored by Tottenham Hotspur and Highgate School, with expert teaching from a further eight independent schools
LAET aims to provide Tottenham's brightest students with the chance to progress to top Universities
The school last year received its first A-Level results, with 56% of students winning places at Russell Group Universities, including one at Oxford
Offers from Oxford and Cambridge Universities have been made to 10 current Year 13 students at London Academy of Excellence Tottenham (LAET) for the next academic year, starting in September 2020.
The state-funded Sixth Form, based within the Club's stadium development scheme, is sponsored by Tottenham Hotspur and Highgate School, who second eight teachers to the Academy and, together with support from eight of the country's top independent schools, deliver expert teaching.
Using a selective recruitment model, the LAET prioritises local students most likely to benefit from an academically-rigorous curriculum and those from disadvantaged socio-economic backgrounds.
Having opened its doors in September 2017, its first cohort received their A-Level results last summer, with more than half winning places at Russell Group Universities – this compares to just 1% of all school students in Tottenham for the last academic year before LAET opened (2016-17).
This included Nurgul Sahin, who became the school's first graduate to win a place at an Oxbridge University - she currently studies History and Politics at St Catherine's College, Oxford.
Furthermore, 70% of grades in hard or facilitating A-Level subjects were A*-B, with over 31% at A*-A.
The latest Oxbridge offers to LAET students have been made across a wide range of subjects, including Medicine, English, Languages, Maths, Engineering, Geography and History.
Jan Balon, Headteacher said: "We are incredibly proud of our Oxford and Cambridge trailblazers as we are of those students with offers for such a range of elite universities in the UK and abroad. They are proving that with the right support and resources, relative economic disadvantage need not be a barrier to academic success".
Adam Pettitt, Head of Highgate School, the principal education sponsor said: "Jubilation doesn't quite capture how excited and pleased we are for our sibling school, LAET, and their students! It's great that, in the place for academic rigour, ten young Tottenham students have come up against the brightest in the land and won places at two of this country's most elite universities. Their brilliant success shows just how much partnership between schools can achieve. I'm sure that Oxford, Cambridge and Whitehall will notice just what a difference schools like LAET, working with their local independent schools, are making to social mobility."
Donna-Maria Cullen, Executive Director of Tottenham Hotspur, LAET's business sponsor, said: "Congratulations to the students who have received Oxbridge offers – we wish them the best of luck for the remainder of their studies. The Club is delighted to have been able to facilitate the LAET along with our education partner Highgate School – as part of our wider stadium scheme, providing the area's brightest young people with the opportunity to study right here in Tottenham, receiving a first-class education with teaching expertise from leading private schools."
Parliamentary Under Secretary of State for the school system, Lord Agnew, said:
"I'm thrilled to see so many pupils from London Academy of Excellence Tottenham receiving offers from these prestigious universities. Congratulations to these pupils whose hard work and dedication are now paying off and to their teachers who have empowered them to do so well. These results are testament to that and can be an inspiration to schools all over the country."
Along with Highgate School and Tottenham Hotspur Football Club, the LAET is supported by eight leading partner schools from London and the South-East, including Alleyn's, Chigwell, Haberdashers' Aske's Boys', Harrow, John Lyon, Mill Hill, North London Collegiate and St Dunstan's.
LAET is based on the successful model of the first LAE in Stratford, which earned the title 'Eton of the East End' thanks to collaboration with top public schools, including Eton itself.