Outstanding A Level Results at LAE Tottenham
---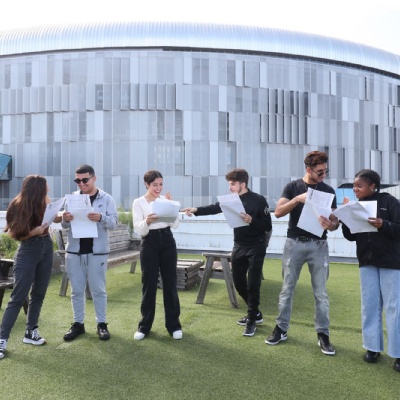 Oxbridge calling for Tottenham students
LAE Tottenham is delighted to announce that at least 10 students at the London Academy of Excellence Tottenham (LAET) have been offered places at Oxford or Cambridge Universities following today's A-Level results.
In total, 75 per cent of students have won places at Russell Group Universities – up from 66 per cent in 2020 – with further results due, following emotional scenes at the school this morning after what has been a challenging year for all students.
LAET was recently named The Sunday Times Sixth Form College of the year and is within the top two per cent of state sixth forms nationally.
This is made even more remarkable in the context of the school being situated within one of the two per cent most deprived wards in the country, with 63 per cent of students coming from the lowest two social groups – being described as living in "struggling estates" or "difficult circumstances" – using the ACORN tool for socio-economic analysis.
Meanwhile, 51 per cent have been eligible for free school meals during secondary school, compared with the national average of 28 per cent for all schools and just 4.5 per cent for selective schools.
Around 200 school families are currently being supported by a hardship fund established by the school.
Students heading to Oxbridge will study a wide range of academic subjects, including Law, Computer Science, English, Music, Politics and History and Human, Social and Political Science.
Jan Balon, Headteacher, LAET, said: "After such a challenging time for us all, we're delighted that so many LAET students will be heading to elite universities. They are fantastic role models for all young people in Tottenham."
Donna-Maria Cullen, Executive Director, Tottenham Hotspur, said: "A huge congratulations from everyone at the Club to all LAET students, who continue to achieve incredible outcomes in the face of such challenging circumstances, doing themselves and the area of Tottenham proud. Our credit also goes to the school's hard-working staff who have worked tirelessly to provide students with the necessary support throughout this time."
Adam Pettitt, Head, Highgate School, said: "We are so proud of LAET fulfilling its founding mission to enable bright local students to get to the best universities – what a stellar performance in 2021! I believe that this hard-working, determined generation will be an inspiration to others to work as hard and to aim as high. We look forward to seeing LAET's alumni taking UK universities by storm! Let's not forget the hard-work and dedication of the wonderful staff – so much to be proud of!"
Click here to read more on Tottenham Hotspur website.