LAE Tottenham Student Wins Poetry Award
---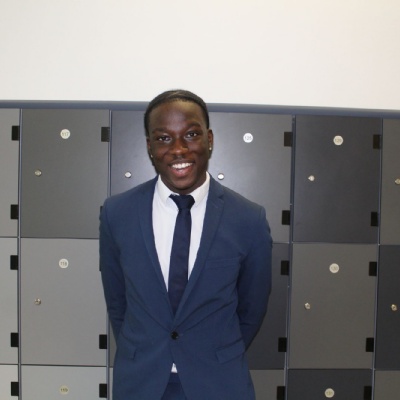 Year 13 student at LAE Tottenham, Giovanni, is a top 15 winner of the Foyle Young Poets of the Year Award 2021.
Giovanni's poem was chosen as a top 15 winner from 14,408 poems entered this year by 6,775 young poets. Since 1998, the Award has been finding, celebrating and supporting the very best young poets from around the world.
When asked about receiving this award, Giovanni said:
" It was an amazing feeling. I'm glad that the experiences I felt as a young lad from Tottenham will reach a lot of different young people who might have gone through the same thing as me. It's important to use your voice, you'll never know what changes you can make until you try."
The top 15 poems will be published in a printed winners' anthology (also available online) from March 2022. The 85 commended poems will appear in an online anthology. Both anthologies showcase the talent of the winners and are distributed free to thousands of schools, libraries, reading groups and poetry lovers across the UK and the world.
Welcome to Tottenham by Giovanni
Welcome to Tottenham.
Where we wake up to the smell of chick king,
mixed with the odour of the corpse from the night before.
Where we cover our blood stained streets with dried up gum,
Where kids have holes in their last pairs of shoes,
Where daddy left mummy and mummy's left poor.
Welcome to Tottenham.
Where if you look like me then it's harder for you,
Where everybody's equal unless they're darker than you.
Where the police see colour before they see the crime,
Where children get stopped and searched and aren't allowed to ask why.
Welcome to Tottenham.
Where the drug addicts sit at the back of the 149.
Where education and sports are the only ways to shine.
Where we ride around on stolen scooters,
Where we can't afford tuition, so the streets are our tutors.
Welcome to Tottenham.
I love but I hate my home,
I still listen to the voicemails of my dead peers in my phone,
I live in a nightmare. I had to learn how to dream,
I'm afraid to open up because you won't survive if you're weak.
Welcome to Tottenham.
The devil's playground.
We fight over streets we don't own,
Knife crimes on the rise because the beef can't be left alone.
Why does no one understand that we just want our youth clubs back,
Why do they claim they're not racist but label the violence here black?
Welcome to Tottenham