'El Laberinto Del Fauno' On The Big Screen
---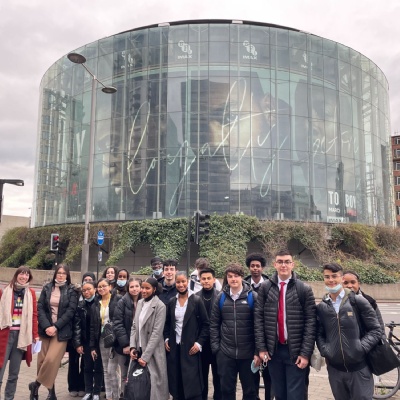 On Tuesday 08 February, approximately twenty A Level Spanish students from Year 12 and 13 at LAE Tottenham set off to the British Film Institute on London's Southbank, to further explore their understanding of the Spanish film 'El Laberinto Del Fauno' by Guillermo Del Toro.
On arrival, students went into the IMAX cinema, which has an extraordinary huge screen where they were joined by hundreds of other A Level Spanish and university Spanish students from around London.
Prior to the film starting, there was an hour-long discussion led by two professors, who are experts in studying the film 'El Laberinto Del Fauno'. Furthermore, students had the chance to learn about film language, camera shots, as well as important historical periods such as Franco's dictatorship and the Spanish Civil War, to deepen their understanding of the film's themes. The session was interactive, with the professors eliciting information from the audience about the film and its context.
Year 12 student at LAE Tottenham, Mikael who attended the trip shared his experience saying: "It was an incredible venue to see such an amazing, iconic film which has motivated us to learn more."
Summary of 'El Laberinto Del Fauno'
The magical realist film takes place in 1944 Spain during a period where it was ruled by right-wing dictator General Franco, and sees a young protagonist Ofelia and her mother live with their new stepfather Vidal, a sadistic captain of the Spanish army. One night Ofelia meets a fairy who takes her to the centre of a labyrinth to meet a faun, an ancient magical creature.
The faun tells Ofelia she is a princess of a strange kingdom and that she needs to prove her royalty by completing three tasks. If she completes these tough tasks, she will be a true princess and meet her dead father, the King, in the afterlife. The film also depicts the violent war between the nationalists and the 'maquis' (rebels).