The Power of Partnerships
---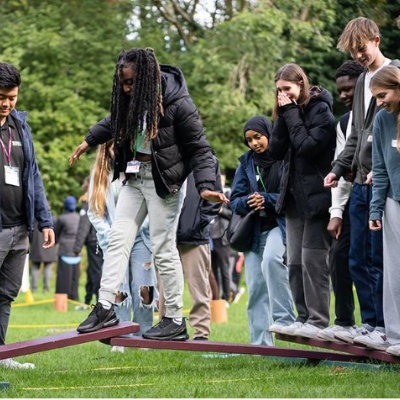 On Tuesday 27 September we welcomed over 500 pupils and staff from Highgate and London Academy of Excellence Tottenham (LAET) for our annual Y12 Teambuilder Day. introduction for your news story here.
As flagship partner schools, the links between Highgate and LAET are deeply woven, and we work closely together to embed a sense of unity amongst the two communities. Throughout their time in sixth form, pupils will have the opportunity to meet and collaborate through a variety of initiatives – from academic events, UK and US university admissions workshops, joint performance opportunities, career mentoring and joint fundraiser walks.
The teambuilder day kicks off the new Y12 cohorts' links with each other and we hope they get a lot out of this day. Pupils enjoyed a lively chemistry demonstration from Dr Andrew Szydlo, Highgate School's partnership chemistry teacher or an inspirational presentation from Mr Aly Patel, from hedge fund JNE Partners and governor at both LAET and Highgate, about the power of partnerships in finance and business.
An afternoon of teambuilding games and challenges offered a more informal chance to meet fellow pupils and pave the way for future collaborations. One Highgate pupil reflected: "I found the event really fun – it's amazing to see how quickly you go from being strangers to working together and acting as a team."
Esther, from LAET, added: "The activities were very enjoyable and fun because I was able to bond with different students and everyone was friendly and tried their best in each of the games."
The sixth form programme at Highgate and LAET includes a rich array of partnership initiatives. Many pupil societies join together on a weekly and termly basis, including the French and LGBT/pride societies; there are a wealth of creative projects, including playwriting and rehearsed readings for drama students, and joint pop/rap sessions for music students, culminating in a concert at the Roundhouse; the maths departments host a series of competitions and challenges between pupils; politics students collaborate on Highgate's politics magazine 'The Arbiter' and they welcome esteemed guests to their events, such as MP for Tottenham David Lammy who joined the joint politics society's event hosted at LAET on 23 September 2022.
Students from previous years have found long-lasting partnerships across the two schools, including Briana and Aris who have been friends ever since they met in Y12. They started to make music in the first lockdown and have both gone on to study music at Oxford. In June this year, they won second prize in the Kendrew Songwriting Competition and have recently recorded their first few songs at Abbey Road Studios and The Parks Studios.
Chanel Noel, Highgate Community Partnerships Director, said: "As a colleague who has the privilege of working between both Highgate School and London Academy of Excellence Tottenham, I see first-hand how inspiring and unique each school community is, and just how much stronger each school is from being in this partnership. The Power of Partnerships teambuilder day lived up to both its name and my eager anticipation. Seeing our pupils so engaged, and having so much fun, in the teambuilder games and challenges in the afternoon was a delight. The natural bonds that began to form for many will no doubt be strengthened throughout the year."